The 21st century is all about digitization. No matter what type of business people have, all of them are aligning towards bringing their venture online. However, the transition from brick and mortar store to an online store is not that easy. You need to have proper knowledge of the type of website you want as the needs of each website are different. To help you out, we compiled a list of the best WordPress themes for eCommerce suitable for different business niches.
The best thing to do here is to check out various WordPress themes that can help you build your website as per the niche. As WordPress is the most popularly used CMS on the web (powers almost 40% of all websites), it is imperative to look at the best responsive WordPress themes for eCommerce.
If you are one of the business owners ready to shift your business online, check out these WP themes and choose the ideal one for yourself!
Frutta Verde

Source: Frutta Verde
Ideal for: Online Vegetable market and Grocery stores
Frutta Verde is an elegant WordPress theme that is ideal for grocery stores and vegetable markets. It has a green and gray color scheme that elevates the elegance of the template. However, the best feature is the unique real-life Instagram feed gallery that allows you to keep your Instagram posts in sync with your website.
Using this cool WordPress shopping theme, you can also set up your own food ordering and delivery system. You can easily categorize, sort, and filter products. The WooCommerce software in Frutta Verde makes it easy to receive payments with integrated payment gateways like PayPal, Stripe, and more.
Moreover, if required, you can enhance the usability of your website by getting add-ons like more third-party payment gateways, scheduled deliveries, delivery availability, etc.
You get access to over 40 WordPress blocks and design skins, including new testimonial blocks, Google fonts, sliders, galleries, promo banners, etc., that upgrade the design statement of your eCommerce website.
Lastly, the theme is equipped with the Gutenberg block editor that makes it easy to edit the aspects of the website whenever required. The editor makes it possible to seamlessly run and scale your online grocery business with this theme.
Image source: Botiga
Yet another clean and minimal design WordPress theme for the eCommerce websites in our list is Botiga. Creating a comprehensive eCommerce site is a breeze with the top-notch features provided by this theme. Also, it lets you tailor your website exactly the way you want to provide an amazing shopping experience to your customers. The theme is just perfect with every aspect of the eCommerce business and comes totally for free.
Botiga is a highly customizable theme. Hence, you can customize every aspect of your website with ease. The theme allows you to showcase your products beautifully with three different product gallery styles. You can even choose from different cart layouts and checkout styles to match your brand. Further, you can put your eCommerce website in the limelight with attractive header styles suitable for every device. Besides, it includes features like product filters and product search to help your customers find the products of their interest quickly and easily. You can also set the different badge styles to differentiate the product with special offers and even recommend the products on product pages to boost your sales. On top of everything, it is a responsive theme that adapts well to any type of screen. Thus, your site is sure to look great on all types of devices.
Carni Rosso

Source: Carni Rosso
Ideal for: Butcher shops and Seafood stores
If you are planning to bring your meat and fish business online, then Carni Rosso is one of the best WordPress eCommerce themes for you. It is packed with some brilliant features like the block editor that ensures smooth customization with its drag and drop functionality.
Other than this, the WooCommerce support enables you to create a fully functional online meat store. One can easily categorize and sort items, receive payments from the customers, and even offer delivery, takeout services. Moreover, the designers can also benefit from add-ons like scheduled delivery, multiple address delivery, and third-party payment gateways.
To make customization a piece of cake, the template comes with a Getwid extension for Gutenberg that allows you to make changes to the colors, typography, and animation of the template. The theme also gives you access to various necessary content blocks such as pricing, blog, galleries, banners, services, and others.
To make your business visible to more people, the WP theme provides you with the Getwid widget that keeps your social media account linked and synced with the website. It includes 7 widget zones and 4 navigation menus. Plus, the template is cross-browser compatible.
Vite Nera

Source: Vite Nera
Ideal for: Breweries, Wine shops, and Liquor stores
Vite Nera is made with the motive to serve the businesses of the wine industry. The theme, just like others, has some great aspects and aesthetics that enhance the overall appeal of the website. It is built with the basic block editor that makes it easy for you to edit or replace the elements of the website whenever required, thus making it simple to scale in the future.
The best and out-of-the-box feature of this theme is the Mailchimp integration that helps businesses to enable automated email marketing.
If you are planning to take your wine shop online, then Vite Nera is the spot-on match for you. Its multiple attributes like sliders, filters, and banners help in showcasing the products on the web.
Moreover, it comes equipped with some of the well-known payment gateways like PayPal, Visa, Mastercard, etc., for accepting payments. With Vite Nera, you can not only accept the delivery as well as takeout orders but can also allow your users to leave reviews about your products.
It makes navigation easy for the users by providing breadcrumbs. To make it convenient for the users to find the right wine, it comes with a shop search bar. Download eCommerce theme for WordPress and uplift your business revenue.
Laveri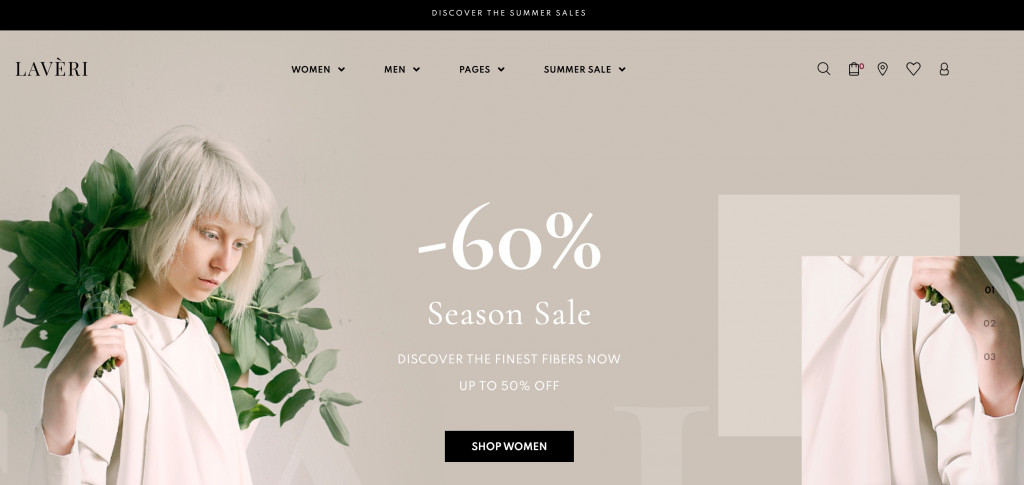 Source: Laveri
Ideal for: online clothing & jewelry & accessory stores.
Laveri is a versatile WordPress template for online stores selling clothing, shoes, jewelry, accessories, furniture, and more. The Laveri design makes it suitable for launching online stores of any complexity and size. The theme includes a full set of WooCommerce features and supports customization in Elementor.
The other advantages include well-thought-out navigation, convenient product sorting, high-loading speed, high-quality code. On top of that, the Laveri homepage features a stunning slider showcase with efficient call-to-actions and beautiful visuals.
Stuffed with a set of WooCommerce features, Laveri promises users a convenient search using multiple filters (color, size, material, rating), good-looking shop catalogs, as well as multiple payment & delivery options.
As mentioned earlier, this template is optimized for the Elementor builder. Besides the possibility for seamless drag-and-drop editing, Laveri provides a couple more handy perks for Elementor users. The template comes bundled with 2 premium plugins:
24+ advanced Elementor widgets by Stratum
Custom Elementor Mega Menu Builder
Among the other perks of Laveri, we can highlight the possibility to choose between 4 blog layouts, SEO markup, and a display of an Instagram real-live feed.
Bimba

Source: Bimba
Ideal for: Handmade or designer clothes for kids, toys, decor, etc.
Do you want to start an online shop of handmade items? Get the Bimba template and showcase all your handmade product collections on the web. Bimba is one of those WP eCommerce themes that support WordPress 5.0. It has an intuitive block editor that allows the designer to create and modify the website as per their preference.
It is WooCommerce ready, which means one can easily manage all the related aspects from one interface. You can seamlessly assemble your inventory, orders, shipping, and payments.
The coolest aspect of the template is the one-click import that reduces your hassle to create every element in the theme from scratch. Just import the theme and replace the demo content with yours.
Unlike the other top eCommerce themes for WordPress, Bimba is the responsive one. It loads and runs smoothly on all devices irrespective of the screen size, thus extending the reach of your website. Moreover, the WPML compatibility of the Bimba makes it fit for speakers of all languages.
The template supports Google Maps and is also cross-browser compatible. The breadcrumbs feature of the theme makes it easy for the users to navigate the website.

Source: Gutenix
Ideal for: Multipurpose use
The Gutenix multipurpose WordPress theme is actually super attractive due to its countless features. First off, it delivers speedy performance as it has a lightning-fast loading time of 0.9 seconds. Moreover, the theme uses the AJAX web development technique that refreshes the data on your page instantly without page reloading. This speeds up the website-building process.
The theme offers a number of layouts such as boxed, full width, canvas, sidebar layout, and more to make the website unique. Besides, the designer can even generate custom sidebars for the website when required to display different widgets for different pages. A plethora of color customization is also included so that different theme elements fit well in the design.
To help you keep the typography pristine, the theme offers you over 700 Google fonts. The fonts used have a responsive size which makes them readable on all types of devices.
Apart from these, there are many other features like social sharing using which you can add social sharing buttons to your website. Include the user comments and likes section on top of the page to allure the users towards your content.
Lafka

Source: Lafka
Ideal for: Fast food restaurants
Just like other themes, the Lafka theme also has unique functionality. It is designed while keeping all the fast-food restaurants and online food shops in mind. The state-of-the-art design offers you diverse functions, such as building your own burger or pizza functionality.
Using this, the business can allow users to make their snacks by adding their custom toppings and ingredients. It also provides nutrition information to the users alongside this.
With the three types of product layouts, you can showcase your offering in various ways. Moreover, you get to choose from around 50 fast-food icons to make your menu look better.
Lafka has awesome yet mouth-watering aesthetics with the aspect of responsiveness. It means that no matter on which device the users access your website, it will be presented in the best way.
The attribute that makes Lafka one of the best WordPress themes for eCommerce is that it is Gutenberg-ready. This feature allows the designers to customize the website as per their preference. Moreover, Gutenberg also provides speedy loading as compared to Elementor page builder.
Lastly, this theme saves you a lot as it features various utilitarian aspects like premium page builder, revolution slider, and custom product add-on functionality.

Source: Modern Store
Ideal for: clothing stores, sports stores, accessories shops, etc.
Modern Store is a clean and free eCommerce theme for stores selling clothing, accessories, decor, jewelry, etc. Modern Store is fully compatible with Gutenberg, Elementor, Yoast SEO, Contact Form 7, WooCommerce, and thousands of other plugins.
Modern Store includes a ton of features, including a customizable home page template, customizable brand color, a promo header section, a built-in shopping cart button, a store-wide search bar, social media icons, a custom logo, and more.
Flatsome

Source: Flatsome
Ideal for: Multipurpose use
No matter if you want to build a company website, client website, or one for your shop, Flatsome always has your back. The ingenious multipurpose theme has all that you need to create fast-loading websites that deliver classic UX.
Starting off with building the website, Flatsome offers you a brand new UX builder, aka the live page builder, which is compatible with the new block editor in WordPress 5. With the combination of two, the designer can implement new web layouts along with powerful content.
Flatsome offers you a large element library that has images, text sections, galleries, rows, columns, etc. You can use these to curate the best website. As teased above, the template has a simplistic and optimized code that makes it ideal for speedy performance. As per the Google page speed test, Flatsome scored 98/100.
As far as the selling is concerned, the Flatsome theme ensures that your online shop allures and retains users. It is Woocommerce ready and has numerous page layouts, product grid styles, category layouts, and others to showcase all of your products in the most interactive way. Plus, it provides you blog features, footer features, and parallax scrolling for making your website stand out from the others.
Woodmart

Source: Woodmart
Ideal for: Any type of WooCommerce store
WoodMart is one of the best WP eCommerce themes on the web; why? Well, it is packed with some mind-blowing features, one of which is its retina-ready and responsive design. The retina-ready, responsive design of WoodMart makes it appear crystal clear on all types of devices, irrespective of their screen size.
Thanks to the visual drag and drop editor of the theme, the designers can design the various aspects of the website like the main header, top bar, header bottom, etc., without any coding. For enhancing the aesthetics of your eCommerce website, you can also use various header layouts and appearance as per your preference.
Other features via which you can elevate the UX for your users are an off-canvas hidden sidebar, built-in mega menu, product page layouts, and styles. Let the users shop for the product without opening it in a new window with the AJAX quick shop feature. Moreover, no need to make every element of your website from scratch. Just use the one-click import feature and replace the content in the demo with your own.
Make it convenient for users to log in by using the default social login facility on my account page. Enhance the functionality of your eCommerce website by using the various compatible plugins like Elementor, WooCommerce, WPML, Contact Form 7, MailChimp, and more.
The Hanger

Source: Hanger
Ideal for: Any type of eCommerce or business website
The Hanger is one of the most versatile themes that is not just for eCommerce websites, but it is fit for almost all businesses. It has a plethora of color schemes like light, dark, and custom to choose from. Besides, you also get access to a number of color choices, fonts, layouts that can be used to create the best website in a few clicks.
As the theme is optimized for Gutenberg, one can easily add or remove blocks in the website at any time with the drag and drop facility. Moreover, this feature eliminates the need for coding while generating beautiful custom-made web pages.
When it comes to effectiveness and efficiency, Hanger has a customizer with a live preview that saves a lot of your time spent juggling back and forth while designing your website. In addition to this, the theme offers you various header styles to make an impact on your users. It lets you choose from countless colors, texts, links, and icon options.
Thanks to some awesome add-on features such as navigation, multi-level drop-down menu, mega menu with live preview, and Ajaxed mini cart, the Hanger can serve any type of eCommerce business.
April

Source: April
Ideal for: Online Fashion store
If you are a fashion lover & are eyeing starting your online store, April is the theme you can bet on. It has some of the coolest collections for skins, header layouts, fonts, color schemes that you can use to beautify your online fashion, boutique, or cosmetics website.
Thanks to over 10 home pages, the designers can choose the most appropriate one as per their preference and website needs. To keep your work to the minimum while building your website, use the one-click demo import feature that will set up your site just like the demo.
April is WooCommerce ready, which means you can view and set up products as required; you can let the users compare products before buying. Moreover, you can also allow your users to share their favorite products on social media.
The theme maintains an excellent balance between functionality and cost by offering you features like the Visual composer plugin and Slider revolution plugin free of cost. The visual composer can help you make brilliant websites without writing any long lines of code.
Other than these, features like typography options, responsiveness, one-click update, translation ready, etc., add extra utility and functionality to it.
Biagiotti

Source: Biagiotti
Ideal for: Beauty and Cosmetics shop
For those who want to present their beauty ideas in front of the world, Biagiotti is here for you. The super-stylish theme has countless aspects that will surely enhance the design statement of your beauty website.
First off, Biagiotti comes with two free plugins that help in streamlining the website building process. You can use the WPBakery Page Builder plugin for designing high-end websites by just dragging and dropping the items on the right spot. Moreover, the slider revolution plugin comes in handy while making responsive sliders with animation effects.
Thanks to its WooCommerce compatibility, Biagiotti has a set of stunning shop page layouts and elements library that can be leveraged to make out-of-the-box web pages. Plus, it provides you with 6 brilliant homepages to choose from.
The use of the theme is not just limited to making eCommerce websites, but it also offers you various blog templates for beginning your own blog. Plus, you get:
Login widget
Video background sections
800+ Google fonts
Translation ready
WPML compatibility
Contact Form 7 compatibility
Social sharing functionality
Twitter and Instagram Social Widget
And many more!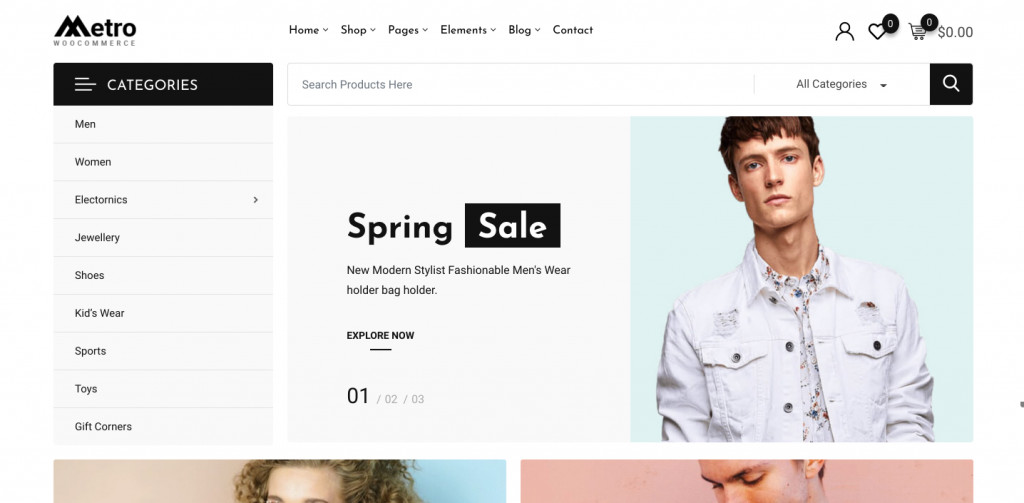 Source: Metro
Ideal for: Online eCommerce Stores
If you are looking for a minimal, simplistic, and pocket-friendly theme, then Metro is the ideal pick for you. Unlike others, Metro packs some of the coolest plugins that may cost you hundreds of dollar if purchased separately, such as:
WP SEO Structured Data Schema PRO
WooCommerce Variation Images Gallery Pro
WooCommerce Variation Swatches Pro
These plugins come in handy in enhancing the interactive nature of your eCommerce website. As of now, Metro offers its users 7 home pages that they can use or modify as per their preference. As far as the modification is concerned, the theme offers you various shop page style layouts, single product page layouts, and an image gallery to make your website pages look attractive.
The theme comes with a responsive structure that adjusts as per the device screen size, no matter if it is a phone, tablet, or laptop. It is equipped with over 6 header styles that offer you various ways to design the website's headers and impact your audience.
The functionality of the theme is further enhanced by the live customizer, which updates the changes as you make them, thus saving your time spent in page reloading. Other than this, features like Yoast SEO compatibility, WPML integration, retina image, and others make it one of the premium WordPress themes for eCommerce.

Source: Hongo
Ideal for: Any kind of eCommerce store
If you are searching for an ideal WordPress theme for online shop, Hongo is at your disposal. The functionality of the theme is wide as it has over 11 unique and stimulating store demos that you can seamlessly import with just one click. Alongside this, the theme provides over 200 elements that can be used to make your website visually appealing.
You can showcase your products by using over 10 modern styles and 7+ product page styles. On top of all, you can leverage over 125 creative content pages, pre-made headers, and more to intrigue your customers.
As far as the building of the website is concerned, the theme offers you a drag and drop builder that enables faster, code-less operation. It has a responsive design that completely adapts to any screen. Besides, the theme is retina-ready, which makes it appear crystal clear on all types of displays.
If we look at the eCommerce part of the theme, it is loaded with utilitarian features. You can add product wishlist, product comparison, banners, mini cart, Mailchimp integration, unlimited colors, and others to make your website stand out. Make it easily readable with the help of over 900 Google fonts and support for custom fonts.
All these aspects make Hongo one of the best eCommerce themes for WordPress.

Source: Cerato
Ideal for: Multipurpose use
Planning to extend your business online? Cerato is the best WordPress theme for online store. Get it and leverage all the awesome features, one of which is its support for the Elementor page builder. You can make and modify your website seamlessly with the drag and drop facility of the page builder. It allows you to modify colors, add images, alter the size and shape of the text boxes, and many more.
Thanks to the pre-included pixel-perfect demos in the theme, you can choose anyone as per your preference and website's needs. Moreover, you don't have to do much hard work by making everything from scratch; the one-click import feature brings everything to live in front of you. Just add the content that your business needs.
The theme allows you to see all the changes in the header as you do it with the visual drag and drop header builder. Moreover, the theme easily adapts to your phone's screen due to its responsive characteristic.
To keep you above all of your competitors, Cerato offers you:
Unlimited header options
Footer options
Built-in mega menu
The instant search auto-complete feature
Product variation swatches
Ajax product filter
And countless more! Using all of these, you can put up the best eCommerce website on the web.

Source: Konte
Ideal for: All types of eCommerce stores
Loaded with some of the essential elements required for an online business, Konte is by far the best WordPress theme for eCommerce stores. It is packed with over 10 home pages, 7 product pages, 10 shop pages, and 12 header styles.
You can choose from various home page demos like modern, collections, classic, full screen, and others. Apart from this, choose from unlimited header options to make your online store look appealing to the users. The theme also offers you the feature of live search so that your users can find what they need quickly.
One of the best things about Konte is its compatibility with Mailchimp. You can easily carry on with your email marketing in the theme itself. Besides, you can import all the elements of the demo in just one click without making them from scratch.
The responsiveness of the theme makes it ideal for mobile devices. Besides, it is made from semantic HTML code and CSS, which ensures SEO optimization and helps in ranking your website. Other than this, it comes with unlimited color options and detailed documentation. And in case of queries, it is backed by premium customer support.
Conclusion
Well, after going through all of these WP themes, you must have got an answer to the question, what is the best WordPress theme for eCommerce, right! The key benefit of a WP theme is that it saves a lot of time by offering ready-made templates for the website's various pages. One can easily edit these pages as per preference.
For that also, these WP themes provide features like a live preview customizer and drag and drop page builder. This entirely eliminates the need for coding, which is why anyone with little to no coding knowledge can use them. So, get the best WordPress theme for small eCommerce and start selling.